GT Sportsman Barber Chair
Prices from:
£1170.00
(£1404.00 inc. VAT)
£936.00
(£1123.20 inc. VAT)
Price includes your chosen options.
Contact us for a leasing quotation on this item.
on this item.
Availability:
Ring for details
Add to wishlist
Choose Your Chair Base
Choose Optional Extras
Choose Your Finish
To Enlarge ‐ Click Image
To Choose ‐ Tick Box
View Dimensions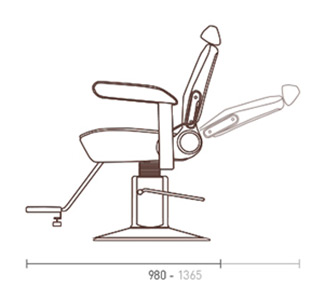 Enquire
Phone us
---
We have x2 in stock in red with white piping on chrome hydraulic disc base.
Contact us for availability on other finishes.
The GT Sportsman barber chair is usually available from stock with NL1 WHITE and NL5 BLACK, other upholstery finishes (SEE BELOW) are available with a 16 to 18 week lead‐time from order.
Uniquely styled, arrestingly fit and intently versatile team player.
FEATURES INCLUDE
360° (lockable) rotation
reclining backrest
recline lever
adjustable and removable headrest
upholstered padded armrests
footrest with stopper
Reproduction of colours may vary.