Apollo 2 Barber Chair
w. Hydraulic Base (SP-RH2)
£2095.00
(£2514.00 inc. VAT)
£1599.00
(£1918.80 inc. VAT)
Price includes your chosen options:
on this item.
Availability:
Ring for details
Show Variations and Prices
Show Options and Prices
Show Dimensions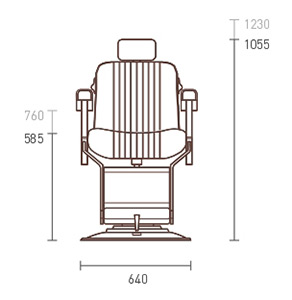 Show Finishes
Add to wishlist
Enquire
Phone us
---
The Apollo 2 barber chair is usually available from stock with NL5 BLACK, NL6 RED & NL24 DARK BROWN upholstery with & without CN31 metalic beige contrast piping in the UK, other upholstery finishes (SEE BELOW) are available with a 16 to 18 week lead-time from order.
The Apollo 2 will be supplied without retro ashtray, if you would like a retro ashtray fitted please click no cost option above.
FEATURES INCLUDE
360° (lockable) rotation
reclining backrest
spring-loaded seat cushion
adjustable and removable headrest
upholstered padded armrests
integrated gown rail
'Belmont'-branded footrest with stopper
Reproduction of colours may vary.