Top Tips on How to Design Your Hair Salon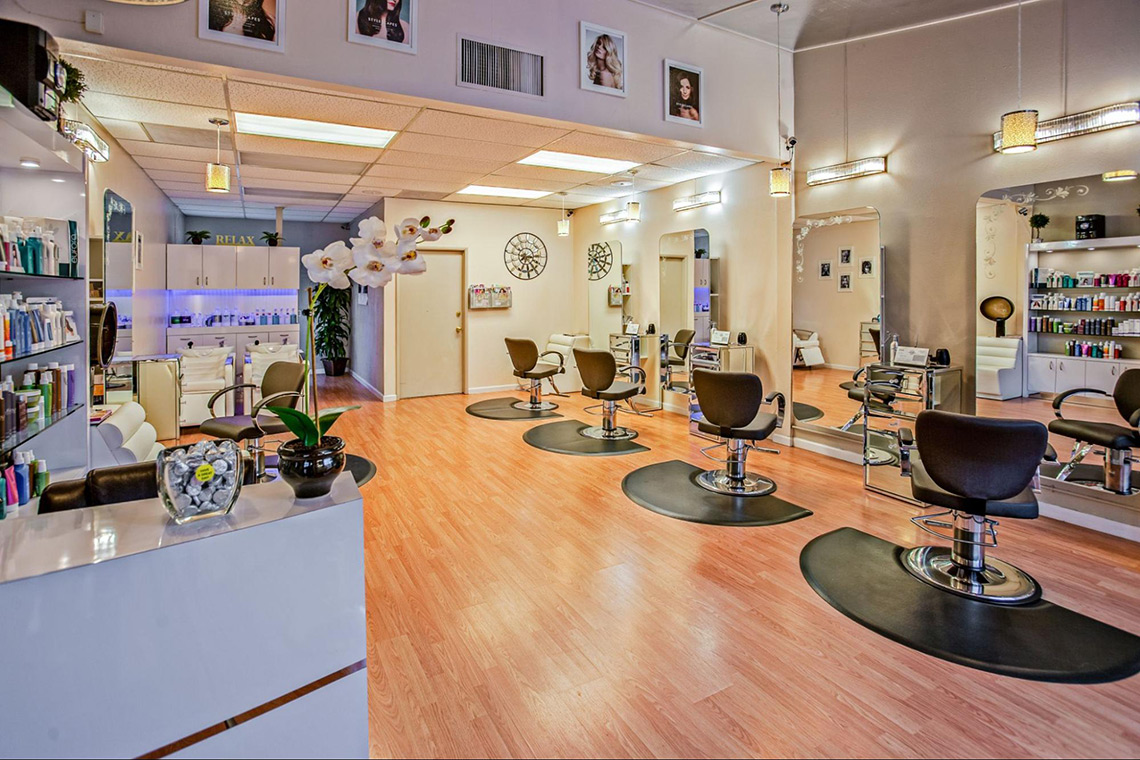 When thinking about planning your salon space there are three main things to consider: customer comfort, facilitation of work, and health and safety, including regulatory requirements. These three considerations should inform every aspect of your salon design from putting in the utilities, arranging the salon furniture, and choosing your salon decor.
Salon Design Basics
First and foremost it is a good idea to consider how many customers and staff you will have at any one time in your salon, this will inform everything else about your design.
Then give careful thought to your utilities, that is, plumbing and electricity. Also, think carefully about accessibility. Keep these basics in mind when you are thinking about the other aspects of your salon design.
Next, think about the three main zones within your salon. Firstly: the entrance which includes a reception desk, sales area, and a waiting area. Secondly, the work area, to include backwash units as well as cutting and styling points. Finally, you will need a services area which will include an accessible toilet, a storage area and if required a small kitchen area to make customer drinks and for staff wellbeing and comfort.
Hair Salon Design: How to Arrange Your Interior Space
You need to ensure there is adequate working space all around each station and that movement between areas is easy. You don't want workers and customers tripping over each other as this is not only a health and safety hazard but also negatively affects the customers' experience.
When it comes to decor an overall theme will help the separate areas of your salon flow effortlessly into each other whilst also allowing you to define each area perhaps with colour and flooring changes.
Salon Styling Area Design: Tips and Ideas
You want your customers to feel pampered throughout their experience in your salon. This won't happen if the seating isn't comfortable so don't go for style over substance.
Effective lighting can help create the right ambience as well as ensure stylists can get the job done. Get the balance between ensuring there is enough natural light without making your customers feel like they are part of a window display.
Mirrors can help with lighting as well as make the salon seem bigger as well as allow customers to see their style taking shape. It also enables them to check out what's going on around them.
Ensure that there is enough room for everything your stylists need to work without having to keep leaving your customer alone. This needs to be achieved with minimum clutter so choose storage trolleys or cupboards wisely.
Salon Wash Area Design Tips
To hide ugly but essential water and waste pipes in your wash areas you could consider a raised area for your backwash units. The piping can then be hidden underneath the floor.
Another way to disguise piping which also creates storage space is to use linking units that can hold all the essentials as well as conceal the plumbing.
Salon Reception Design Ideas
This is the area where your customer is transitioning from their day-to-day grind to some 'me time'. They want to feel welcomed, relaxed, and a little bit spoiled. Comfort is key and furniture choice can go a long way here.
A common mistake with receptions areas is to use the space behind the reception desk as your retail display area. This quite literally puts a barrier between your customers and the products you want them to buy. Instead, make sure your product displays are easily accessible so customers can browse freely.
Hair Salon Washroom and Ancillary Room Designs
Don't forget the smallest room in the salon! A clean and beautifully decorated, warm, and functional washroom will go a long way to helping customers feel relaxed and looked after. Perhaps most importantly though is to ensure your customers' privacy by, as far as possible, ensuring it is not in an area where entering and exiting the WC is noticeable to everyone else in the salon. If space is an issue a well-placed coat stand, or large plant can help you give customers the required privacy.
Hair Salon Furniture Buying and Planning Tips
By planning carefully and buying from a reputable source there's no reason why you can't find the perfect blend of stylish, functional, and long-lasting hair salon furniture and fittings.
Opt for optimum functionality and timeless style over current fads. This will mean that a lick of paint on the walls and some new decorative touches are all you need to keep your salon looking its best over the years, no matter how fashions come and go.
To browse our online showroom or for more expert advice on buying the best salon furniture and fittings for your needs please do get in touch with us at Concept Salon Furniture. With over 30 years in the business, our family-run firm can help you create the salon of your dreams.